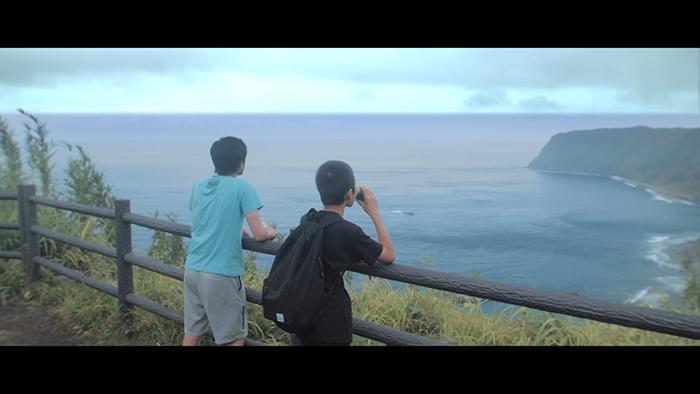 Professor Yoshio Kakeo
The work is what you call an independent film, produced by the director, Tadashi Nagayama. His debut as a director was with "Light My Fire" which won a prize at the Pia Film Festival in 2012.
Jiro (Tomoki Kimura), an office worker who lost his wife in a traffic accident a few years ago lives with his son, Noboru (Mizuki Suwa), a junior high school student. Jiro is bounded by social order and common knowledge that he suppressed his feelings about the unavoidable accident of his wife and the anger at the perpetrator, seeking comfort from his pet turtle.
Noboru is unpleasant with such attitude of his father and takes a defiant attitude against everything. One day, Jiro's elder brother, Shintaro (Yota Kawase) appears with his fiancee (Supika Yufune) and forcibly took them out to hold a wedding ceremony. Shintaro is an artist who does not return debts he borrowed from Jiro and lives unreliable life. Thus, a strange journey of the four plus a turtle begins. The destination of the journey is a far away remote island where Jiro celebrated his wedding before. Along the way, Shintaro has fights and troubles many times and Noboru gets more intense that Jiro's mind begins to collapse. The episodes that are likely to be in the road movie each have meaning and integrated with characters while the characters are growing.
Kawase acts the eerie yet strangely fascinating performance of Shinjiro, including the scenes of calling on a woman to make love and cutting down a tree in the park. Suwa plays the son with invincible expression. In response to their performances, Kimura needs to continue the passive play, It is flexible as a willow swayed by the strong wind. The remote island of the destination they finally arrive is also a place where the wife of Jiro died in the accident. He confronts with the perpetrator who runs a Japanese style pub. A brawl between regular customers and his brother Shintaro begins that Jiro who became naked begins to sing "It is ok~". Kimura's play, which switched from passive to active, bursts here. His play of casting off everything that has tied himself with the shout is the highlight.
The film won the Grand Prix at the Yubari International Fantastic Film Festival. Also, Tomoki Kimura won the Best Actor Prize at the 10th Tanabe Benkei Film Festival, and Best Actor Prize at TAMA NEW WAVE. This is an Independent film yet first rate entertainment film.
Filmiantion
We can see that all filmmakers and staffs face with this movie politely and sincerely although little bit unrefined.A father and his son have complex relationship, but some accidents -his unique old brother's loopy behavior and their tortoise's disappearance -changes their relationship wildly. It is really funny!We cannot help laughing at some serious but funny scenes. And the beautiful scenery in Japanese countryside from car window struck a chord in our hearts.Anyways, this movie is emotional.